Dear Alcon - Granters of Vision 5/26/2017
---
Dear Alcon - Granters of vision!
Your 'Dailies Total 1' lenses get my vision to 20/8! It's like being a very mediocre superhero. Since changing from Acuvue lenses, I've had 0 issues with my eyes.
Well almost! You also grant the occasional 'worst headache ever!' Maybe you're just trying to get me more rest, as I end up in bed by 8 PM on these days. Thanks?
You see, of course you do, that every 7 - 10 days one of my lenses is a bit off. One eye will have crystal clear vision, the other, a bit blurry from 0 feet, to infinity, and beyond! The discrepancy over the course of the day gives me a splitting headache. If I notice early on, I throw that lens away, replace it, and everything is grand!
Therefore once a week I lose a lens. Sad days! I hope you can look, of course you can, into this. Today is one of the days I did not notice and I'm at work now. Else I could provide you with the lot numbers from my lenses.
Thanks for clearing up this issue!
Coupons? Replacement lenses?
-Signed
Dear Bear Creek Distillery 4/19/2017
---
Dear Bear Creek Distillery,
I'm writing you this evening for two reasons. First a dire warning, the second... well read on.
Firstly, as a person who cares about the welfare of our planet, I'm shocked to see that you've opened your distillery in Colorado's bears natural habitat. You're the reason that bears are forced out of their natural habitat and into neighbor hoods. The bears were in that creek first, and you've encroached on their home. Additionally I'm seriously worried for the welfare of your employees. Bears eat people. They're serious business.
Secondly, this is the first time I've tried any of your spirits. My wife returned from foraging, I imagine much like a displaced bear, with your silver rum and coke. I tasted it before we mixed it and it was delicious. We then mixed it with some Coke, and it was sublime. The flavor was great, it let the coke shine through, and did not have an overwhelming alcohol flavor. Bravo. If you have to displace a bear for such a great product... Okay.
Thanks for a wonderful rum!
Coupons?
Tastings?
Beary fond of your rum,
-Signed
Result: Invitation to the Distillery!

Full Text
---
Hello .....,
Very funny stuff you've written here. I've shared it with most of our staff and we all fount it very funny!
Anyway, thanks for the kind words on the rum. It's always great to get feedback from our customers, especially when it's positive.
I'm about to leave town for wedding but if you'd like to come by the distillery sometime I'd gladly hook you up with some drink coupons and have either myself or someone on the staff show you around the place. Let me know if you're interested and we'll arrange a time that works for you.
Thanks for the laugh,
-Signed.
Dear The Amazon 2/21/2016
---
Dear The Amazon,
On February 6th, 2016 I placed a "prime" order with you for some simple parts, that quite frankly, I still want. But it's now the 21st - 15 days later - and I'm left to wonder 'where the heck is my box?' Gender bending genitalia jokes aside I thought I'd look into this in a bit more detail.
Let me be the first to say 'you're simply incredible!' 2.7 million square miles, 78% of which is covered by rainforest and is home to one in ten of the known species on this planet! Somehow you've managed to harness this biodiversity to organize, package, and ship me things through your online store. Absolutely incredible!
When I first moved to Hawaii, a small island chain also supporting a variety of endemic creatures, I purchased a 'prime' subscription to your rainforest. The 2nd day shipping from somewhere in the northern portion of South America was quite impressive. However, I regret to inform you that your service has started to slip. I'm not sure I'd blame this declining performance solely on the Brown Throated Sloth, but they seem like unmotivated employees. Perhaps firing and replacing all of them with howler monkeys would help.
Your meteoric decline was subtle at first, our 2nd day delivery turned into 3rd day delivery, which was understandable. You're roughly 6,500 miles away and made mostly of trees. However, over time you stopped shipping things the next day. Your sloths appeared to stumble around, go on cigarette breaks and then ship things a few days after the order was placed. Well that negated the whole 3rd day shipping thing, entirely. But this didn't satisfy your sloths, oh no. Things kept getting worse. Soon things began shipping many days after the order was placed. For example - my most current order placed on the 6th, shipped on the 10th. And somehow the 3rd day after the 10th changed from the 13th to the 17th, and then to the 21st. And while I understand that the 21st in the Amazon can be the 20th here, still no packages arrived.
I'm not normally one to make a comparison in order to make someone, or in your case a rainforest feel bad about itself, but I'm going to make an exception. Let me tell you about China. While I understand they are, by area, roughly 37% larger than you are, somehow they've managed to get my packages to me and for free. In fact, I ordered quite a few items from them on the same day, which cost much less than you'd like to have charged me. These arrived 5 days later.
Please understand, I loved your prime service, formerly it was fantastic – simply the best, and I made sure to tell everyone I knew to get your prime service. And while somethings are useless, like why I can't use your lending library without buying some of your dead trees and other dried fuels to read it on, I still think it has promise. I just implore you to please, please fire the sloths that have taken to not shipping things.
Sincerely,
-A human being on Oahu.
Result: Declared Lost! Refunded, then repurchased.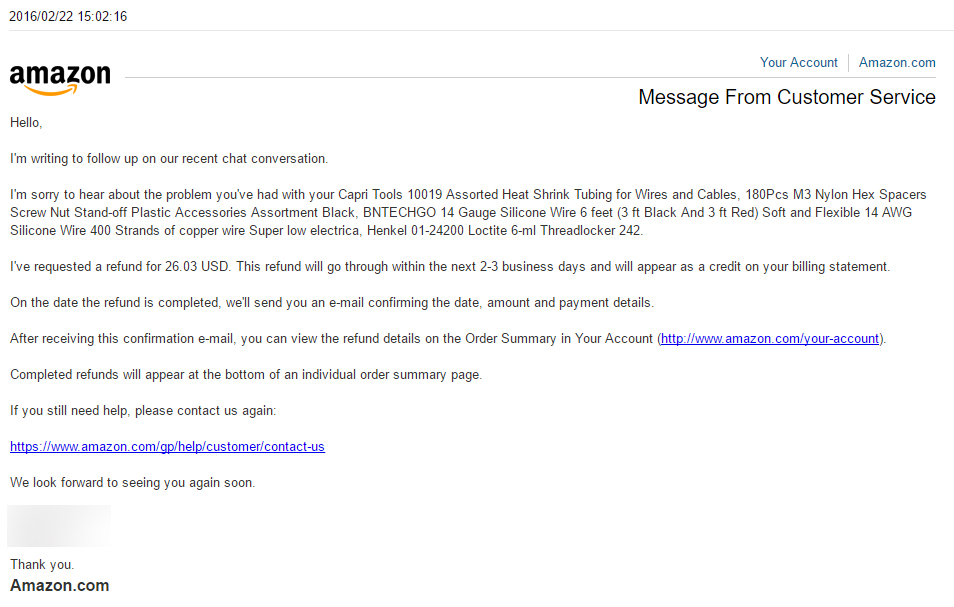 Full Text
---
Hello,
I'm writing to follow up on our recent chat conversation.
I'm sorry to hear about the problem you've had with your Capri Tools 10019 Assorted Heat Shrink Tubing for Wires and Cables, 180Pcs M3 Nylon Hex Spacers Screw Nut Stand-off Plastic Accessories Assortment Black, BNTECHGO 14 Gauge Silicone Wire 6 feet (3 ft Black And 3 ft Red) Soft and Flexible 14 AWG Silicone Wire 400 Strands of copper wire Super low electrica, Henkel 01-24200 Loctite 6-ml Threadlocker 242.
I've requested a refund for 26.03 USD. This refund will go through within the next 2-3 business days and will appear as a credit on your billing statement.
On the date the refund is completed, we'll send you an e-mail confirming the date, amount and payment details.
After receiving this confirmation e-mail, you can view the refund details on the Order Summary in Your Account (http://www.amazon.com/your-account).
Completed refunds will appear at the bottom of an individual order summary page.
If you still need help, please contact us again:
https://www.amazon.com/gp/help/customer/contact-us
We look forward to seeing you again soon.
Best regards,
*********
Thank you.
Amazon.com
Dear Crazy Cuizine 8/23/2015
---
Dear Crazy Cuizine,
That was the worst dragon meat I've ever had. It was actually the 3rd worst meal I've ever had. Your GARLIC CHICKEN & NOODLES managed to come in right behind frozen, then boiled, then pan fried steak. You did quite well to come in far behind microwaved sausages. But still… the third worst thing I've ever tried to eat.
Now don't get me wrong the GARLIC CHICKEN & NOODLES (is it actually chicken? And the logo is just a dragon? I'm not sure), was not the worst thing ever. The noodles were actually pretty good. Like spaghetti that you cooked, put in a plastic bag and then had me microwave and stir fry with a sauce. Good game, but not the dragon meat. What in the world.
At first I thought it was chunks of breaded precooked chicken. But I'm not so sure. You see the texture, it was kind of like fish on the outside. Like biting in to a fish, like a taco. Not a fish taco, that would have been delicious, but rather just taking a chunk out of a fish with your teeth. The dragon way I presume. And the inside was kind of like chicken, while the nearly gelatinous fat chunks stuck to the meat, tipped me off, this is probably dragon meat.
I'm not saying That I presume all of your products are horrible, I'm just saying this one was. We're willing to give Crazy Cuizine another try, but just not the dragon meat GARLIC CHICKEN & NOODLES. Thanks for your time dragon processors,
Coupons?
-Me
Result: Response! + Refund!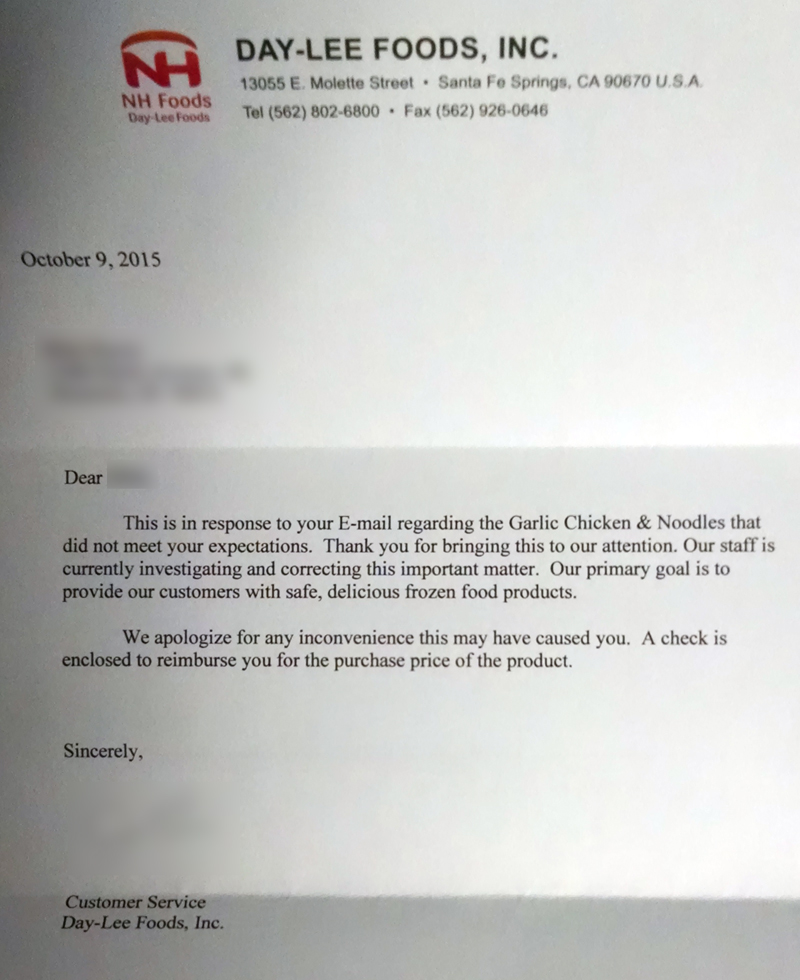 Full Text
---
Dear *******,
This is in response to your E-mail regarding the Garlic Chicken & Noodles that did not meet your expectations. Thank you for bringing this to our attention. Our staff is currently investigating and correcting this important matter. Our primary goal is to provide our customers with save, delicious frozen food products.
We apologize for any inconvenience this may have caused you. A check is enclosed to reimburse you for the purchase price of the product
Sincerely,
*Signed
Customer Service
Day-Lee Foods, Inc.
Dear Black and Decker 8/18/2015
---
Dear Black and Decker,
Today I write you on wholly hostile grounds. Your latest attempt on my life has not gone unnoticed, however it was very unwelcome. And while my hand is still stinging and my fingers still tingling, I have mustered the due diligence to write you.
I am the very unfortunate owner of your Model #SB1001B single burner. And I have figured out your booby trap. Whenever it is plugged in and I touch any of its metal surfaces it makes an attempt at my life. Whenever a metal pan is on it, and the pan is touched it makes an attempt at my life. This was discovered as my wife was the first to have her arms electrocuted as she touched both a pot, and the kitchen sink. And while I'm not a medical professional I'm pretty sure electrical arcs across your chest – i.e. someone's heart – are very bad.
I'm not sure why this thing is faulty, but it has failed as both a kitchen tool, and an assassination device. Thus I sit here staring angrily at it. I no longer desire possession of this trap, and therefore we come to our impasse. I have only this hotplate with which to cook my food. And you, Blackest of Deckers, now need to find your course of action. Take possession of this sinister device, or leave it in my very uncomfortable hands.
Replacement? Purchase me another brands? Apology? The decision is yours.
Angrily,
-********
Result: Response! + Apology! + New Hot Plate!
Dear CVS Pharmacy 4/27/2015
---
Dear CVS pharmacy,
I'd like to congratulate you on your forward thinking. You've done your best to set me up as a future customer for my skin cancer medicine. However, I'm very unappreciative of your actions.
Being that I live in Hawaii, the UV rays here are incredibly powerful. So accordingly, and not wanting skin cancer, I put on sunscreen whenever I venture forth into the great outdoors. Normally I'm covered from head to toe in Coppertone's Sensitive skin spf 50 with Zinc Oxide. It works wonders. We can surf or play in the ocean for upwards of 6 hours without incident.
So today while going surfing, with the knowledge that we'd be on the ocean for less than 2 hours, I figured that your CVS Pharmacy 30 Sport Sun Lotion, Broad Spectrum SPF 30 UVA/UVB protection sunscreen would be adequate. I've never been so wrong.
Having lived now in Hawaii for nearly 8 years I've been burned twice. Once when I first got here and had to walk to the store to get sunscreen and today. We were surfing for less than an hour and a half, and my back is completely red and painful. Very sunburned. Does your product do anything besides give a false sense of confidence that the sun is not going to burn me?
I've checked the expiration and lot number, if it is of any use to you here it is. Lot number (I assume) is 140390384 and the expiration is 01/2017.
If you have any sort of satisfaction guarantee, I'd like to take part in this and inform you, I am not satisfied. 100% not satisfied, and would like either my money back or for you to give me a coupon for the Coppertone SPF 50 sensitive skin with zinc oxide.
Unhappy!
-********
Result: No Response! Shame on you CVS - shame.
Dear Captain Starbucks 1/14/2015
---
Dear Captain Starbucks,
Let us first say that we stand in awe of your interstellar travels. Journeying to other worlds, worlds beyond our wildest imaginings, inspires grandiose dreams in the hearts of children and grown men alike. And let me be the first to apologize for the deplorable space food they make you eat.
I'd always seen "astronaut ice cream" for sale at thrift shops, and my parents never allowed me to purchase any. As an adult I changed that at the local Long's Drug store. It was okay. And if that's the best space rations has to offer, I am so sorry for your palate.
As you travel to and discover new worlds, your mindfulness of us still entangled on the surface of earth is very kind. And bringing back the finest coffee beans the solar system has to offer, is a mighty fine gesture, however, your freeze drying process is horrible. It just has to be, as that is the only explanation for my girlfriend's and my current qualms.
I'd never been a big fan of coffee flavor, but the smell always pleased me. Recently on the North Shore of Hawaii at the Coffee Gallery, I discovered that a "Mocha Frappuccino" tastes very much like the way coffee smells. Delicious. (Fun side note, tiramisu also falls into this category, though I'm not sure how well it does freeze dried.) So I decided to give your interplanetary space hub at the University of Hawaii (Earth) a try. Gritty dirty chocolate. That's the best I can do to describe the Mocha Frappuccino I tried there.
So I brought my tale of woe - the worst drink I've ever tried - up with my girlfriend, as she is a huge fan of your's - Captain Starbucks. But alas, her tale of woe was similar to mine! On two occasions her peppermint mocha from the Hilton Hawaiian Village (Earth) was horrible. It basically tasted like they ran out of peppermint syrup and substituted it with peppermint mouthwash. Which I'm sure you're very familiar with from your interplanetary travels. Furthermore the bipeds you've enslaved at the establishment did nothing to produce a foam on the top of the mocha. Now I'm not one to say that a mocha without a heart, flower, or small dog with big eyes design on the top of a mocha, makes a mocha. But I am saying that peppermint mouthwash surely does not.
We hope that our earth bound troubles reach you in good health amongst the stars. God speed traveler. Coupons?
Sincerely,
-The humanoids ******** and ********
Result: Super Fast Response! + Coupons!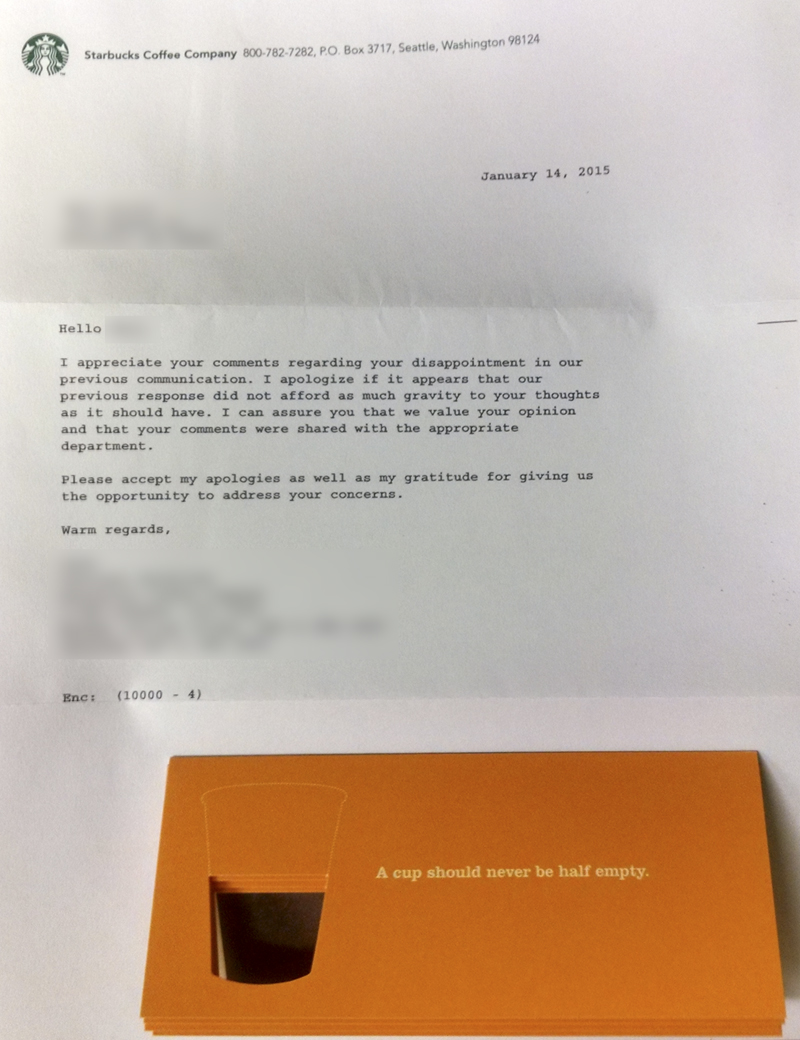 Full Text
---
Hello *******,
I appreciate your comments regarding your disappointment in our previous communication. I apologize if it appears that our previous response did not afford as much gravity to your thoughts as it should have. I can assure you that we value your opinion and that your comments were shared with the appropirate department.
Please accept my apologies as well as my gratitude for giving us the opportunity to address your concerns.
Warm Regards,
*Signed
---
*Note: We had a couple back and forths to get the store located.
Dear King of the Burgers 11/30/2014
---
Our dearest honorable King of the Burgers,
Your loyal subjects write you this fair day to give you word that your humble servants have betrayed you. The meal we doth went forth to consume, a grave injustice!
The method of your servants treachery? The Four Cheese Whopper!
On the rarest of occasions your subjects find themselves at the mercy of the hungers, at the feet of the beast of 'I need a burger,' the only salvation we find is in the Gallant Whopper! But alas! This time we strode forth into your keep, we were enticed by the fair looking harlot, the Four Cheese Whopper! Woe is us!
The cheeses usurped the Whopper sauce! The shredded cheddar lie cold and un-melted, the patty, luke warm at best! Sorrow followed our meal!
Oh how we looked on with envy in our hearts at those fortunate hands laden with Whoppers, while we sat disappointed.
Dearest King! We write you to undo this injustice, deliver us from the hands of incompetence, give us our savior! Give us some Whoppers!
Your Loyal Subjects,
********** & ***********
Result: Apology! + Coupons!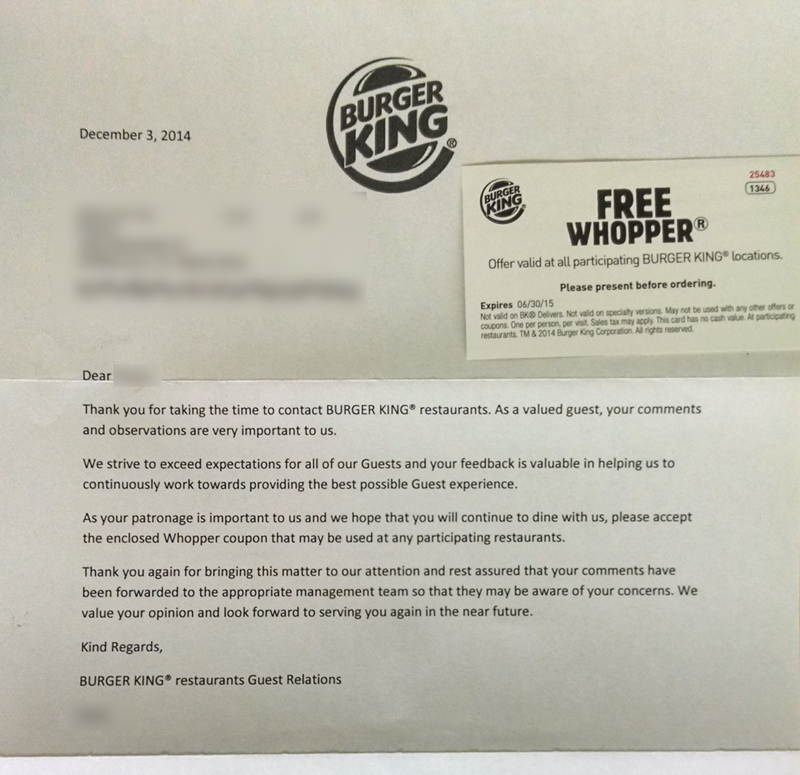 Full Text
---
Dear *******
Thank you for taking the time to contact BURGER KING restaurants. As a valuded guest, your comments and observations are very important to us.
We strive to exceed expectations for all of our Guests and your feedback is valuable in helping us to continuously work towards providing the best possible Guest experience
As your patronage is important to us and we hope that you will continue to dine with us, please accept the enclosed Whopper coupon that may be used at any participating restaurants.
Thank you again for bringing this matter to our attention and rest assured that your comments have been forwarded to the appropriate management team so that they may be aware of your concerns. We value your opinion and look forward to serving you again in the near future
Kind Regards,
BURGER KING restaurants Guest Relations
---
*Note: We had a couple back and forths to get the store located.
Dear Birds Eye Voila 9/1/2014
---
Our dearest friends at Birds Eye Voila,
We compose this missive to you on this fairest day to give you inform regarding matters of the dearest concern. We find your garlic chicken and vegetables the most exquisite and delectable of frozen cuisine; Magnificent! However, upon our latest venture to the grocer we found that their inventory only included that of your Alfredo Chicken. So we pondered, 'do we procure this savory delicacy, or do we find a substitute to dine on this evening?'
Well, much to our chagrin, we procured your Alfredo chicken, and found it to be lacking in every significant way. the only way we could fathom to procure a fair means to the ned of this meal was the margaritas.
So strong they must be to fix it, the lack flovor, the bland taste, the spite to our tastes budds. Still undable to fix this meal of disgustings. Why? We weep for our meal, why no garlic chickn:? So muches better. So sad. Tears. The tequila too much. Falling apart, eloquence turns to slrurs. Not so much good. Coupons?
Sincerly,
-*Horribly misspelled names*
Result: Apology! + Coupons!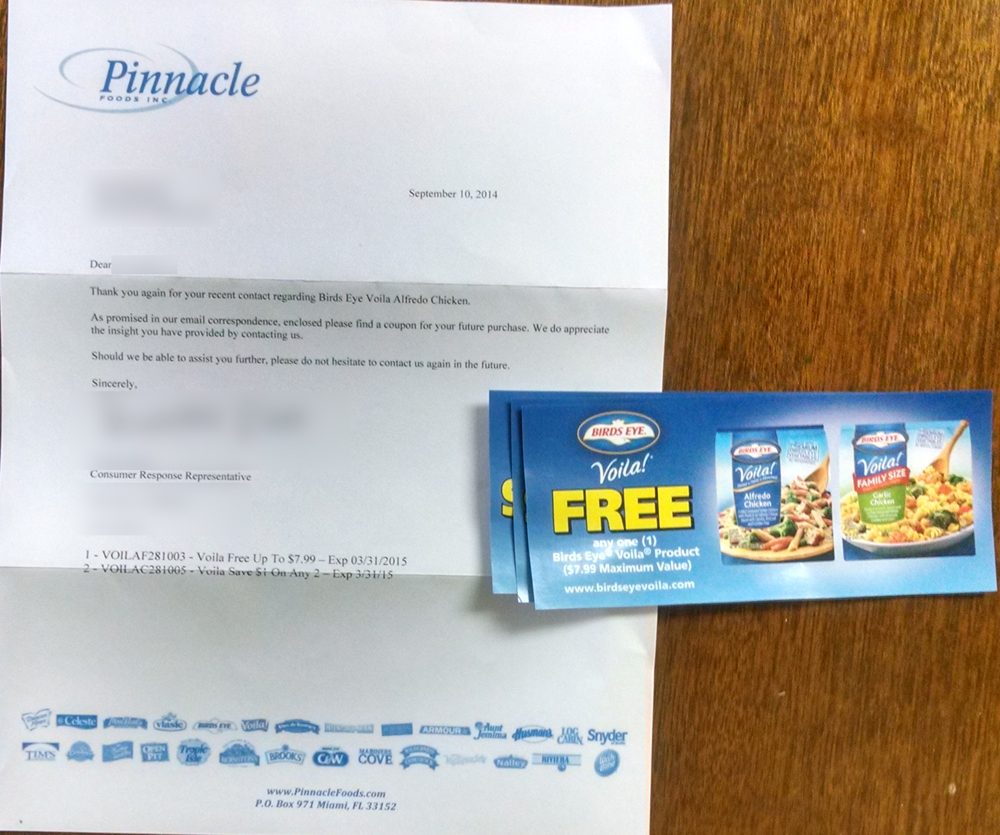 Full Text
---
Dear *******
Thank you again for your recent contact regarding Birds Eye Voila Alfredo Chicken.
As promised in our email correspondence, enclosed please find a coupon for your future purchase. We do appreciate the insight you have provided by contacting us.
Should we be able to assist you further, please do not hesitate to contact us again in the future.
Sincerely,
*********
Customer Response Representative